Streetworks
Images by Jack Symes
In his ongoing project
Streetworks
, Jack Symes sets an interplay of light and shadow within a framework of urban architecture to create a series that is by turns humourous, tender and moving.
For this series, which began in 2016, Symes worked within strict limitations and developed a strongly-defined aesthetic. We are given the briefest of glimpses of ordinary people, captured by the chance gaps of light created from the buildings on the edge of London's Barbican estate. His approach, however, was initially conceived in another urban landscape — Tokyo. Symes explains: "I was walking through Tokyo a couple of years ago and stopped on a bridge. The sun was very high and falling in a way that cast huge contrast between the light and shadows. I set up my camera on a tripod and waited for people to walk through the shot. In this moment there was an idea born that I knew I wanted to explore…"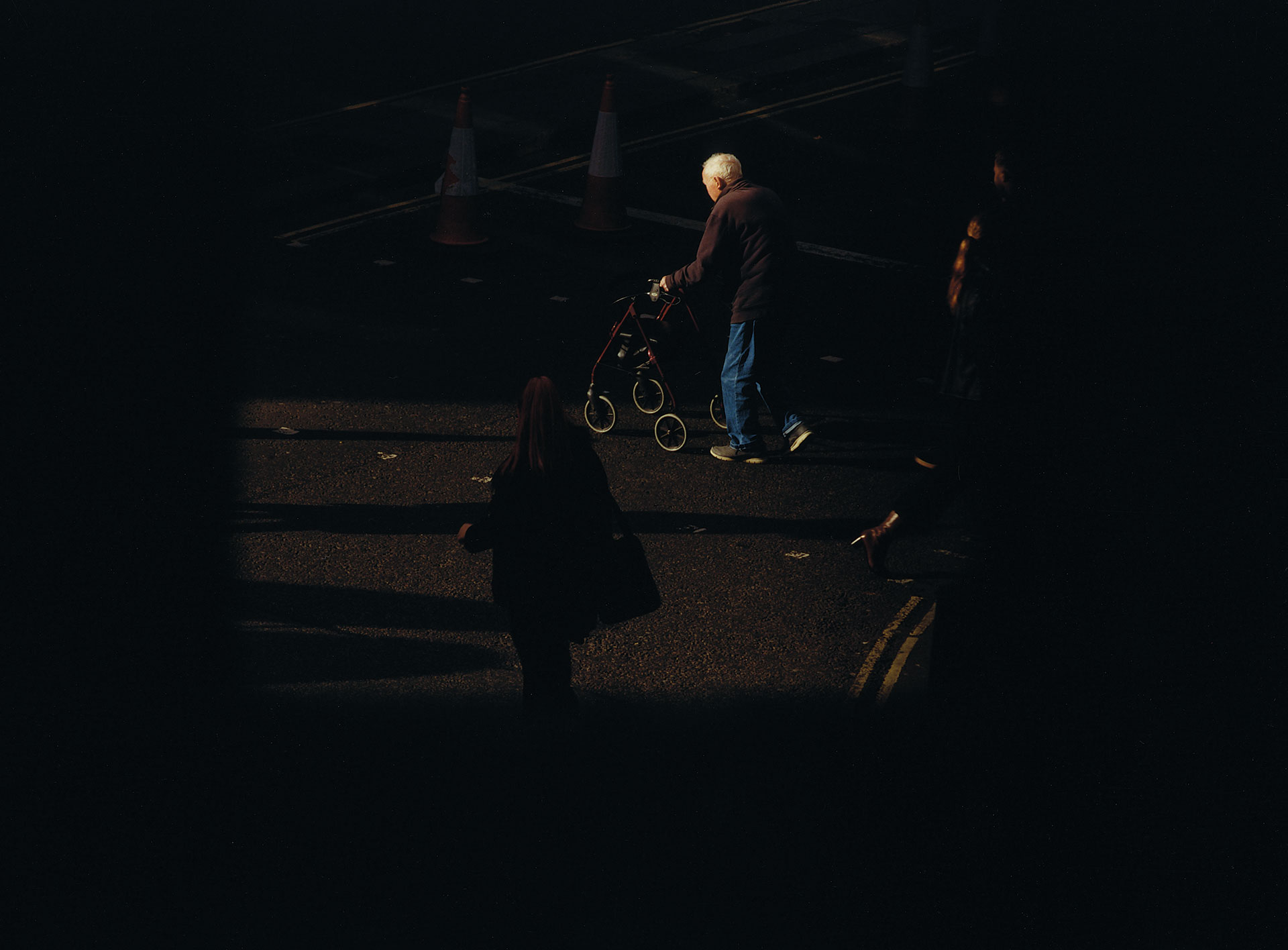 Aside from a strong contrast of light and darkness, the other central element of Streetworks is an ad-hoc approach to composition. Every shot and every subject is made as unplanned as possible. Symes continues: "The choice of subject becomes equally as important, as do the actions or choreography of the people in this edit... often I was not in charge of who or what would happen in the scene."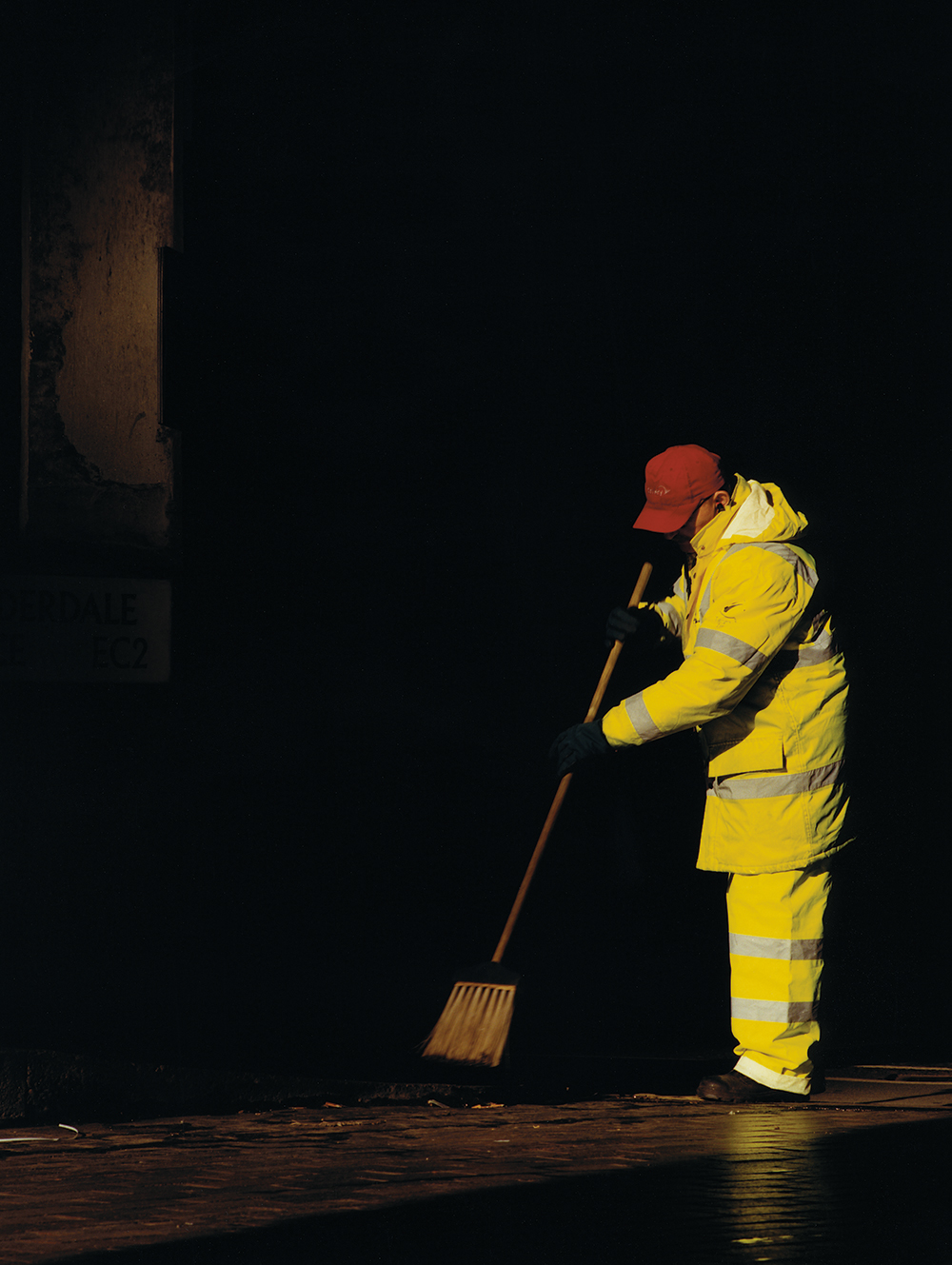 To achieve this sense of beauty by chance, Symes had to break with his own sense of convention after years of working in the fashion industry. He goes on: "Coming from a fashion background, I am taught to look for a more obvious version of 'beauty'. I think when you can break from this idea [of conventional beauty]... there is beauty in moments, not just in the way somebody or something looks... I found myself capturing many moments, not all of them conventionally beautiful or well composed. I ended up printing photographs that had a humorous, or a slightly more serious beauty to them. I think that some of the images in this edit of the work feel, not cluttered, but perhaps awkward in their composition sometimes. I love this about the images... this is where [they] really touch upon a beauty I want to represent.


According to Symes himself, one of the shots that demonstrates his aesthetic and reworked definition of beauty best is the photo featured on the previous page. In his own words: "one of my favourite images is the photograph of the family with three young girls wearing pink dresses. So many things struck me about this image — the repetition of colour and of style, the composition of the family with the children stood at the feet of the parents. Illumination in this respect is so, so important to the work, and I would go as far as saying that these photographs feel like 'illuminated moments' observed in the street."
Stylist: Louise Ford
Hair: Rebecca Chang
Make-up: Anete Salinieke
Jack is a photographer living in London, UK. His work explores themes surrounding perspective and the everyday, as well as more broadly portraiture and fashion. Visit
jacksymes.com
This artile was first published in Three of SATORI. Discover Issue Three here >