Autonomy and Freedom in the American South West; Touring A-Z West
Words & Images by Cecilia Lindström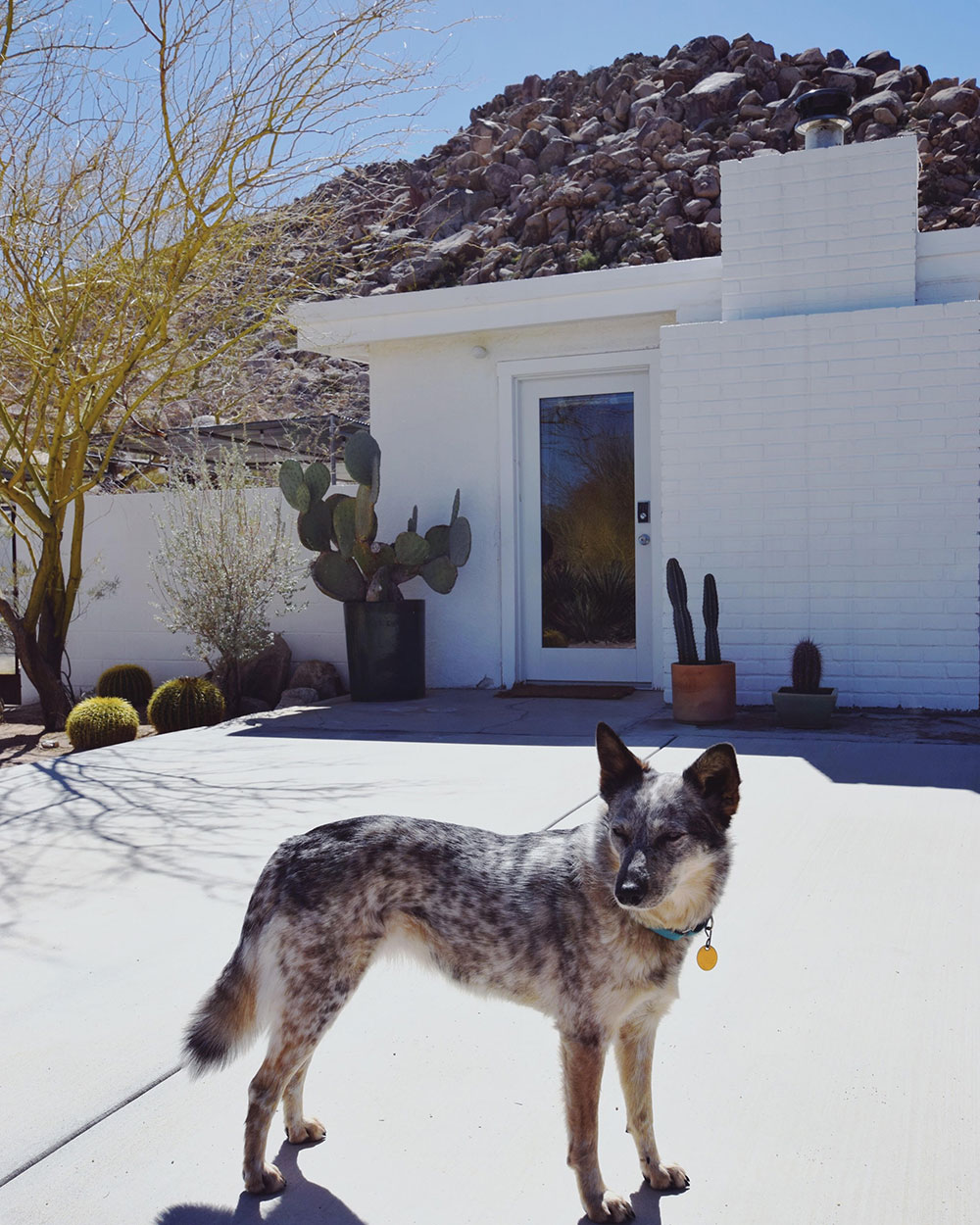 Andrea Zittel's jackrabbit homestead on the edge of the Joshua Tree National Park.
---
The desert is a place for seekers and dreamers, explorers and outlaws. The vast and seemingly untamed landscape of eastern California has been dubbed the last free place in America, and remains the continent's wild frontier.
This would appear an unlikely place to settle and make a home – the barren and unproductive terrain is non-supportive and punishing, with peak temperatures of 50 degrees Celsius during summertime. It is an alien landscape. It's so alien, in fact, that the NASA Mars programme utilises a site in the Mojave Desert to simulate the Martian environment to prepare astronauts for space travel.
Yet, it's inhabited by folks that have escaped the city for a simpler existence, seeking tranquillity and repose from the distractions of urban life.
The area known as Wonder Valley experienced a land rush with the establishment of the 1938 Small Tract Act, a post-World War II policy that sought to dispose of "useless" federal land by encouraging the public to claim it through the construction of a small dwelling, a tradition called "jackrabbit homesteading".
The Act represents the quintessential American desire to claim new territory and domesticate it, even though it might be entirely worthless and unproductive. An extensive swathe of land affected by the Small Tract Act lies just north of Joshua Tree National Park; beyond the retail parks and service points of 29 Palms Highway are the traces of one of America's largest homestead communities. But the harsh desert conditions, coupled with the lack of basic facilities, made for a challenging living environment. Many returned to the city and left a terrain dotted with abandoned buildings and structures behind, a big proportion of which still lacks water and electricity.
The kaleidoscopic kitchen featuring Andrea's custom tiles and workbenches. A reluctant diner, Andrea lived without a stove for many years, cooking instead together with her guests on a communal hot plate similar to a Korean BBQ.
---
Artist Andrea Zittel returned to her ancestral land in 2000, after ten years in New York City, in search of the open plains of her childhood. Here, she resides in a simple homestead cabin with her son Emmett. The cabin became the seed for A-Z West, an ever evolving experimental living project that challenges our relationship with ourselves and our surroundings – natural and man made. Drawn to the frontier mentality, Andrea set out to create her own unique civilisation and culture that redefines the rules and conventions of contemporary society.

A-Z West started as a 5 acre landholding that has now expanded to 70 acres in a conscious effort to maintain the compound's physical isolation. Like many houses in the area, Andrea's is small (499 sq.ft.) and intentionally kept below the 500 sq.ft. threshold to refrain from activating the Californian building code. Through carefully crafted extensions and additions, Andrea has turned the house into an art project that explores simplistic living devoid of superfluous comforts. Yet, it is far from minimalistic; the cabin's thoughtfully curated interior is filled with hand made ceramics, crystals, books and personal objects that has meaning and purpose. It is elegant and minimal yet extravagant and particular. The interior is a continuously evolving piece of art, a living expression of the ongoing work at A-Z West. Each piece of furniture has been exquisitely and thoughtfully crafted to serve a specific role in the house, such as the Plaster Aggregation Units in the living room – a one of a kind shelving system made from plaster reinforced Amazon delivery boxes. Some placeholders still exist, yet to be replaced with a custom piece.

Paired with the routines and rituals set out in the A-Z West Rule Book for Habitation, Andrea's modest yet ambitious structures question what it means to live; what we need for survival, for comfort, for creativity. Existential and philosophical questions around the complex relationship between authenticity, freedom, autonomy, security and control are explored through architecture as well as the common artefacts of daily life – furniture, utensils and the personal uniform.


Andrea's dining room featuring her Plaster Aggregation Units made from Amazon delivery boxes.
---
Routines and standardisation are paramount to the A-Z West culture. Andrea is known to dress in seasonal attires, wearing the one and the same outfit daily, until it is worn out and no longer fit for purpose. Breakfast, lunch and dinner are served up in the A-Z Container, a bowl for both eating and drinking, cast in the ceramic workshop on the site. Meals are often on repeat, without the need for the endless variation we have become accustomed to. I am told that fish tacos are a favourite, but struggle to see how this is served up in a bowl.
The living room with the multifunctional Planar Configuration Unit.
---
The premise of this is the notion that routines creates space, sharpens the mind and conserves energy for the artistic process. There is comfort in repetition and consistency. Structures and habits liberate the individual from the endless daily choices that we are all subjected to, in order to re-focus on life and creativity. The theory is that the things we believe liberate us, such an endless choice, can become restrictive, whilst increased control can give us an enhanced sense of comfort and security. A collection of prototype living commodities are pepper potted across the rocky terrain around Andrea's homestead cabin; The Wagon Station Encampment is a cross between a camp ground and an artists' residency that slowly opened up the grounds for seasonal visitors to share the A-Z West experience. The project originated in 2003 as a series of customisable sleeping cabins that blends the aesthetics of a space capsule with the covered horse-drawn wagons of the westward expansion. Over the years, the cabins have been standardised into a distinct sci-fi pioneer design. The size of a single sleeping area, it features simple racks and shelves for clothes and belongings, a brush to clean away the desert sand, and a partially glazed vertical door that allows unfettered views of the night sky, the moon and the stars, and the vast landscape. This is simple living, with minimal needs. No adornments, just the basics. Sadly, the encampment has fallen victim of the building code regulations and has now been closed down to visitors.
Two new structures for living have recently been created in a desolate corner of the Mojave Desert, a 40 minute drive east of A-Z West: the Wonder Valley Experimental Living Cabins. These are simple homestead cabins that have been renovated and installed with a multi-function piece of furniture, a so called Planar Configuration, that acts as seating, table, bed, counter and room divider. Basic necessities are provided, but no electricity, water, air conditioning, toilets or showers exist. The information sheet provided by A-Z West recommends the cabins for "those who are hardy" and "interested in exploring a deep sense of solitude". The cabins are used by visitors who want to experience true off-grid living. Bookings are accompanied by a protocol sheet with instructions on how to inhabit the cabins.
One of the Wagon Station Encampment units.
---
The desolate landscape on the edge of the open desert is barren and harsh – the perfect setting for an exercise in solitude and austerity. You rise with the sun, and retreat with nightfall. Simple meals are cooked on the propane gas stove, and sponge baths taken in the outdoor shower. Entertainment is a book, or star gazing. This is true personal time. With no distractions. It is extreme, but also natural to the human being. Here, isolation becomes a creative catalyst. It encourages a deeper understanding of and connection with the places we inhabit, and with oneself. In a day and age where we have come to rely on home deliveries, around the clock services and constant connectivity, the Wonder Valley experiment prompts the questions: can we free ourselves from our dependency on modern conveniences? and; what is life like without them?
Andrea came here to exist outside the established art world. To create a mini utopia without the need for perfection. It is a subdued and sophisticated one woman rebellion against established conventions, driven by a deep rooted aversion to comply coupled with a quest for freedom and the unknown. Here, solitude is an expander that instigates a greater sense of self and that calls into focus our authentic and creative core. Yet it's not an escape from society, but rather a search for a different form of collectiveness.
Ceclia is a London based urban designer, researcher and storyteller/writer with a true and genuine interest for human settlements and the cultural, political and financial drivers that shape them. Find out more at
tellingtales.live
and follow her
@tellingtaleschronicles
The opinions expressed in this article are solely Cecilia Lindström's own and do not express the views or opinions of Andrea Zittel or A-Z West. Copyright © 2019, Cecilia Lindström. All rights reserved.
Tours of A-Z West takes place monthly and can be booked via their website:
www.zittel.org/work/a-z-west
The bedroom, and Andrea's rescue coyote.
---